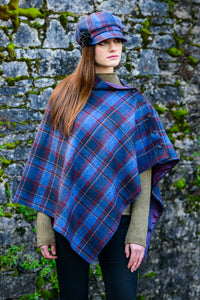 Blue/Burgundy Multi Plaid Ponchos
Mucros Weavers
Blue/Burgundy Multi Plaid Ponchos
This classic style Mucros Weavers Poncho is made from 100% wool and is one size fits all. It features a cowl neck and is lined with satin. It is practically elegant and lightweight making it the ideal substitute for a coat in milder weather.
About Mucros Weavers
Mucros Weavers are located at Muckross House, Killarney, Ireland, the focal point for
visitors to Killarney National Park.
---
We Also Recommend